MATTHEW EATS COOKBOOK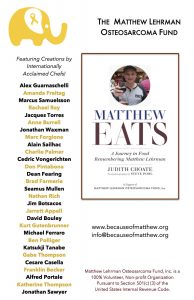 The greatest honor to Matthew's memory thus far has been the cookbook, Matthew Eats. The fabulous collection of culinary creations is an extraordinary tribute to Matthew's love of food, featuring recipes by 29 celebrity chefs, some of who Matthew met and others who have restaurants at which Matthew dined. Gary Portuesi generously published this beautiful cookbook, edited by Judith Choate, with food photography by Steve Poole.  The book is selling well and Matthew would be overwhelmed to see a cookbook with his face on the cover!
More exciting plans are coming down the road and it is so gratifying to continue to benefit the Osteosarcoma community in Matthew's name, honor and memory. He will always be remembered.