Sponsorship of Osteosarcoma FACTOR 2020 Conference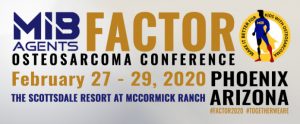 We are delighted to again be major sponsors of the MIB Agents 2020 FACTOR Conference, which is the only annual conference dedicated to Osteosarcoma research and treatment.  Physicians, researchers, clinicians, and patients gather from around the world to share and collaborate.   Most of these physicians and scientists are so busy fighting cancer, that the FACTOR Conference is often their only chance to speak at length with their colleagues.
This year's FACTOR Conference will be held from February 27 – 29, 2020 in Phoenix, Arizona.   For more information please visit MIBagents.org.